What can I say about this project? Well for starters it was a long road from start to finish. Originally it was just going to be a video tour that showed a bunch of locations from the film. But it ended up evolving into something much more adventurous.
The more I kept researching and planning out the locations from the film the more the desire to turn this into a costumed adventure. The original idea was to go around nyc dressed in just the khaki flight-suit and presenting the different locations. But the more I thought about it, the more apparent it would be even cooler to get a custom name tag made and then if I was going to wear the flight-suit then I would need to buy the no-ghost patch and I would need to have a belt to complete the look.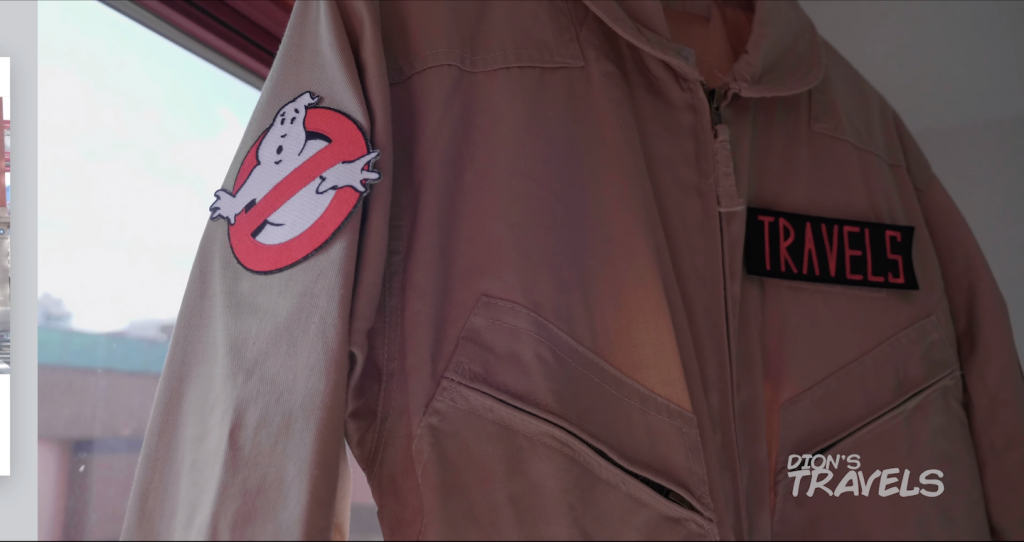 Then I decided if I was going to go this far I might as well turn it into a story of going around the city catching ghosts. But you can't catch ghosts without a proton pack, or at least it would be a very hard job. So I started looking around at the options.
There were a few options, one was to buy a fully built one with lights and sounds, the price was quoted around $3000-$5000. That was definitely not in the budget. So I looked at kits, I saw kits going for around $450 - $900, however these kits needed lots of body work and lots of specialized tools, nothing was pre-cut or pre-bored or pre-drilled. I didn't have the space or time to go this route and do a whole bunch of body work on a kit, and so I stumbled on spirit halloween's deluxe proton pack. Their pack is a bit smaller than the original however the price was right and it had lights and sounds, all I had to do was get an alice pack to mount it to and it would look 100 times better.
So with that out of the way, I also snagged a ghost trap and pke meter as well. Because you can't go ghost busting without these 2 critical items. Now the problem with the ghost trap was that there was no pedal and I had scenes where I needed to kick a pedal and close up shots of the trap. So I had to fabricate my own from laminating pieces of cardboard and foam, painting it with flexi-paint and attaching hoses and getting correct enough looking attachments to connect from the trap to the pedals and I was set. If you want to see a build gallery click here.
Scouting locations and blocking out shots. The funny thing is that when planning out shots and actually going to the place to film, there always needs to be a balance between unexpected things that come up and the vision that you want to shoot.
Here is a collage of the locations I had planned out to shoot:
As you can see not all made the cut, however a good portion of them did make it in. Originally 2 main scenes that I wanted to do, one on broadway down near the chambers street train station and one at the native american indian museum that was near that train station as well.
Other challenges in making this film... filming was the easy part, but the finishing was the hardest. There were many scenes that needed visual effects to be added.
from the onset, I knew specifically what I wanted the ghosts to look like in the film. I knew that I didn't want any fake looking cartoony things. Also I wanted to do as many things practically as possible with the exception of one scene that I had to use 3D generated dragon and environment. Because it was just going to take too much time and energy in order to create a practical hand puppet and build a scaled miniature set for the environment for it.
All-in-all, I'm pretty happy the way this film turned out, I got a majority of the things that I wanted completed and It might even open the door to an experimental part 2 which would follow the vibe of the Ghostbusters in Hell storyline.
In order to promote the film and create a piece of physical memorabilia around this project of love, I had a film poster made and I put it on a custom borderless mounting configuration. Check out this beauty:
If you would like a complimentary copy of your own, you can click here to download it directly.
So in closing, I hope you enjoyed watching this short fan film. Even though it had it's challenging moments, the journey to completion was an experience of a lifetime and I got to fulfill my dreams of becoming a Ghostbuster and running around NYC catching ghosts and other spirits. Until next time, peace!
Credits:
Directed by: Dion's Travels
Co-Producer: Mae L. Yang
Associate Producer: Carie Thuy Duong
Visual Effects: Hendril Costa Silveira
Illustration Supervisor: Dan Charles Celis
Poster Illustration: Marjun Lazarte